A core element of dialectical behavior therapy (DBT) is the DBT skills training group. Skills training groups are designed to teach individuals the DBT skills and increase their ability to solve day-to-day problems, particularly regarding emotion dysregulation. For individuals who can benefit from a comprehensive program, DBT skills group is combined with individual therapy, phone coaching, and the therapist consultation team. There are also some individuals who may benefit immensely from skills training alone, as learning the modules of distress tolerance, emotion regulation, mindfulness, and interpersonal effectiveness is helpful for a range of mental health difficulties. 
DBT skills training is focused on learning DBT skills and applying them to emotional and interpersonal problems. Thus, to many group members' liking, there is not a primary emphasis on sharing intimate details about life as in traditional support groups (e.g., a grief support group).  Group members still share their experiences and emotions; however, it's not expected for group members to divulge their life story. Instead, group leaders ask group members to share content that is associated with the specific DBT skills, including examples of how group members are using skills in their everyday life to change their thoughts, feelings, and behaviors.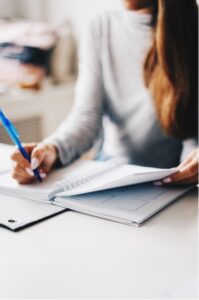 The Logistics:
DBT skills training groups cover four skills modules: mindfulness, interpersonal effectiveness, emotion regulation, and distress tolerance. For adults, the groups require a 24-week commitment; the group meets once a week for two hours. For our multi-family group (designed for a teen and a teen's caregiver), it's a 24-week commitment and meets once a week for two hours. In addition, we also have a graduates group, for individuals who have graduated from comprehensive DBT. The graduate group meets once a week for one hour, and only requires its members to commit to the group for six to eight weeks at a time.

The Agenda:
Each class follows a specific plan that Marsha Linehan designed to make sure the groups run smoothly and effectively (Linehan, 1993). 
Beginning Practice (Mindfulness Exercise)
First, group members engage in a mindfulness exercise and get grounded to prepare for the rest of class.
Homework Review
Then, group members share their homework from the week prior, which is typically the skill covered in the previous week's class. Group members can listen to ways that other group members used the skills and troubleshoot as needed.
Break/Social Time
At the halfway point in two hours groups, group members can grab a snack, run to the restroom, stretch their legs, and get to know other group members!
Learning the New Skill(s)
Next, the group leaders will teach the new skills for the week, provide examples, lead discussions, and answer questions to help group members to understand and practice the DBT skills throughout the week. The leaders will also let you know which pages the homework will be on.
Observations
Finally, group members engage in a closing practice whereby each group member shares an observation they had from the group, as a way to wind-down and close out the group. Examples might be: "I noticed the thought that I liked the mindfulness exercise" or "I felt tension in my stomach" or "I'm glad Bob shared today." 
Personally, as one of the group leaders, I think group is incredibly meaningful due to the power of the connections that group members form. Oftentimes, group members enter group feeling isolated and alone, like no one else understands. The beauty of DBT skills training groups is that group members get to be around other people who are actively dedicated to learning the skills and to work toward building a life that's worth living. These connections are formed while working with DBT therapists that are extensively trained to make the DBT skills training effective and worthwhile.  
References
Linehan, M. M. (1993). Cognitive-behavioral treatment of borderline personality disorder. Guilford Press.